JOE: JANUARY 20, 1904 — AUGUST 19, 1992
GUIN: APRIL 19, 1904 — N0VEMBER 4, 1992
Murshid Moineddin used to tell a story about the period following Murshid S.A.M.'s passing. All these teachers and gurus came out of the woodwork saying that they "had been told" that they were now supposed to be the teacher of S.A.M.'s students… every single one of them… EXCEPT FOR JOE!. Joe offered to be there if we needed him, but S.A.M. was our teacher… and he wasn't going to try and take his place.
Joe and Murshid, and Paul Reps, had all been students together under Nyogen Senzaki… Dharma brothers. It was only natural that he would be the good uncle, and guide us as needed, but not try to be a replacement for S.A.M.
Thank you Joe & Guin, for being with us for so many years…
_________________________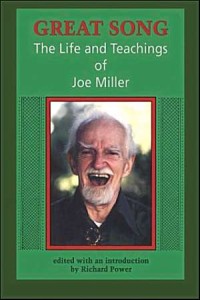 Learn more about both Joe and Guin:
THE MILLER ARCHIVE at the San Francisco Theosophical Society website
GREAT SONG: The Life and Teachings of Joe Miller
Edited with an Introduction by Richard Power, Maypop Books 1993
Online aritcle: "Falling Awake: The Life and Message of Joe Miller"
By Richard Power and David Thompson, from a 2007 issue of Quest magazine.
_________________________
Link to information on the Ruhaniat Website