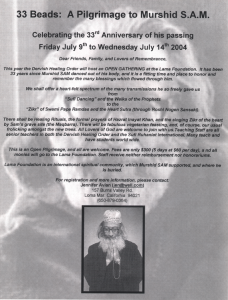 Celebrating the 33rd Anniversary of his passing
Friday July, 9th — Wednesday July, 14th 2004
Dear friends, family, and Lovers of Remembrance.
This years Gathering of the Dervish Healing Order will be at the Lama Foundation. It has been 33 years since Murshid SAM danced out of his body, and it is a fitting time and place to honor and remember the many blessings which flowed through him.
We shall offer a heart-felt spectrum of the many transmissions he so freely gave to us: From "Sufi Dancing" and the Walks of the Prophets, to the "Zikr" of Swami Papa Ramdas, and the Heart Sutra (through Roshi Nogen Sanzaki). There shall be Healing Rituals, the formal prayers of Hazrat Inayat Khan, and the singing of the Zikr of the heart by Sam's grave site (the Maqbarra). There will be fabulous vegetarian feasting, and, of course, our usual frolicking amongst the new trees.
Teaching Staff are all senior teachers in both the Dervish Healing Order, and the Sufi Ruhaniat International. Many teach and have students world wide.
The fees for this Pilgrimage are only $300. (5 days at $60. per day) —  Staff receive neither reimbursement nor honorariums, and, all monies will go to the Lama Foundation. Lama Foundation is an intentional spiritual community, which Murshid SAM visited twice and where he is buried.
For registration and more information, please contact: Jennifer Avian
See you on the Mountain.