The Dervish Healing Order presents:
A Pilgrimage to Murshid SAM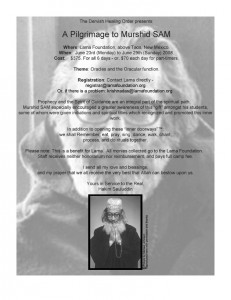 Where: Lama Foundation, above Taos, New Mexico.
When: June 23rd (Monday) to June 29th (Sunday) 2008.
Cost: $375. For all 6 days – or, $70 each day for part-timers.
Theme: Oracles and the Oracular function.
Prophecy and the Spirit of Guidance are an integral part of the spiritual path. Murshid SAM especially encouraged a greater awareness of this "gift" amongst his students, some of whom were given initiations and spiritual titles which recognized and promoted this inner work.In addition to opening these "inner doorways"™: We shall Remember, eat, pray, sing, dance, walk, chant, process, do rituals together, and of course continue our legendary frolicking amongst the trees.
Please note: This is a benefit for Lama. All monies collected go to the Lama Foundation. Staff receives neither honorarium nor reimbursement, and pays full camp fee.
I send all my love and blessings, and my prayer that we all receive the very best that Allah can bestow upon us.
Yours in Service to the Real,
Hakim Sauluddin