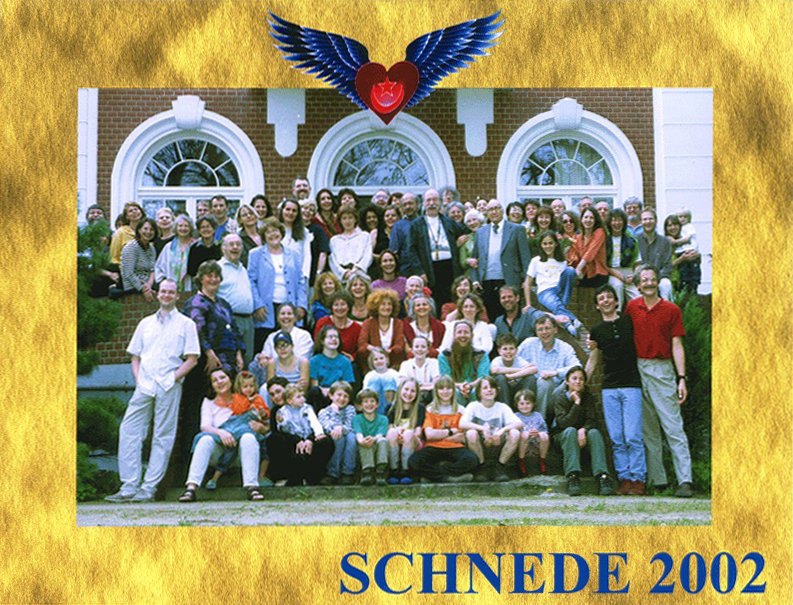 Beloved ones of God,
Once again the magic and heartfilled space of the Shnede family was manifest.
Almost 100 open hearts gathered for a week of prayer and family. I was told that there were over 75 adults and over 25 children. Our special guests were P.O.M. Hidayat Inayat Khan and Murshida Aziza. Alhamdulliah!
The family came together from the U.S.A., Holland, Denmark, Switzerland, Greece, Austria, The Czech Republic, Russia and of course Germany.
I was joined on staff by all 3 Shiekas/Caliphas from the German Ruhaniat – yes, they are all women – and by 3 American Sheikhs/Khalifs – David Dalley (and his family), Scott Sattler, and joining us for the first time was Murad Finkelstein from Eugene. Subhan took great photographs as usual. Inshallah! Fabulous results soon.
Amongst the participants were a number of Sufi Movement people (from Holland and Switzerland), who came to support the Federation, and had a blast. Ya Hu!
In addition to our regular practices: the healing ritual, the prayers, the walks, the dharma talks, the dancing, the choir, the chi gong, the story telling, we had a Universal Worship led by Latifa Fourier. All this plus good weather, great meals and white asparagus.
The big news is that there are now new members of the DHO/Ruhaniat family in Russia and the Czech Republic, and that the Berlin family has started our first Khanka in Germany. Alhamdulliah! What a joy to report. I am hopeful that I shall visit the new Khanka in February. Inshallah!
The first Friday in June (June 7th), I shall be speaking to the Enlightenment Society of the United Nations in New York City. I plan on speaking on the Modernism of Hazrat Inayat Khan, the esoteric history of Sufism, and the universalism of Murshid SAM. All this plus some Zikr Allah, and the Maha Mudra for Peace. The meeting is from 1:00 p.m. E.S.T. to 2:30 E.S.T. Please tune in with your love and supportive vibes. Ya Shakur!
D.H.O. Calistoga is upcoming (June 24th to June 29th) and, both Pir Shabda, and Murshida Fatima will be there as our guests. Hope to see you in the Waters.
All love and blessings,
Hakim Sauluddin
June 1, 2002
Charlottesville, Virginia
(Click the images to open full size folios)