Dear Family,
Murshid Hidayat was born on this day in 1917 in London, and survives as the only living child of Hazrat Inayat Khan and Pirani Ameena Begum Ora Ray Baker. He currently serves as Co-General Representative of the Sufi Movement International's Pir-O-Murshid Council and oversees the Movement's summer school each year in Katwijk, Netherlands.
He and his wife Murshida Aziza are our Dervish Healing Order's God-Parents. He continues to write prolifically on aspects of the Sufi Message, and as an internationally recognized composer he continues his work of setting many of the 99 Names of God to music so that they may be sung as spiritual practices. Murshid Hidayat and Murshida Aziza currently divide their time between Holland and Germany.
The planet is blessed to still have him with us! May we all be as bright, clear and energetic as he, as we journey through our 'chronologically gifted' years. If you have a moment today, you might pause and send a deep breath of love in his direction. Like all of us, he could use the 'juice.'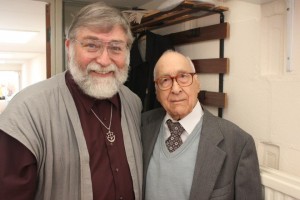 Together in the One,
Love,
Aslan
_________________________________________
Alhamdulliah!
Many thanks for the reminder.
May they have another 100 years of health, clarity, and happiness.
all blessings,
sauluddin