Dear family,
It's been almost 40 years since Murshid Sam danced off to glory, and last month we celebrated his life and teachings at Lama (where he is buried).
37 of us (the I Ching's number for Family) walked, danced, processed, laughed and enjoyed the warm days and cool nights on the Mountain.
It was a harmonious and loving gathering, with our usual home-work, bed time stories, practices and zikrs, and rituals. We even had a couple of new practices come through:
We added the Gulf to our concentration, and created a HU Circle, where-in each of us could place our prayer or wish for God's highest plan to manifest for specific areas and events (like the Middle East, the Gulf, Iraq, Afghanistan, Sudan, Somalia, etc.).
Lama family treated us wonderfully, the food was lovingly prepared, the land sparkled, and our hearts were full of the Divine Love.
Please note: Lama residents are young, heart filled and dedicated – but Lama is woefully understaffed. If we know of any young'ens who you feel will benefit by a Lama experience – have them contact Lama. Their continued ease is our continued happiness.
Special – Special – Special Thanks to Nathan Freewind for designing, manifesting and installing the sun shade (a DHO funded project) over Murshid's grave site. Not only is it beautiful, well constructed, and fabulously harmonious with it's surroundings, but it works perfectly. We were able to sit by the grave and commune under the noon day sun. Yeah Shade! Yeah Nathan!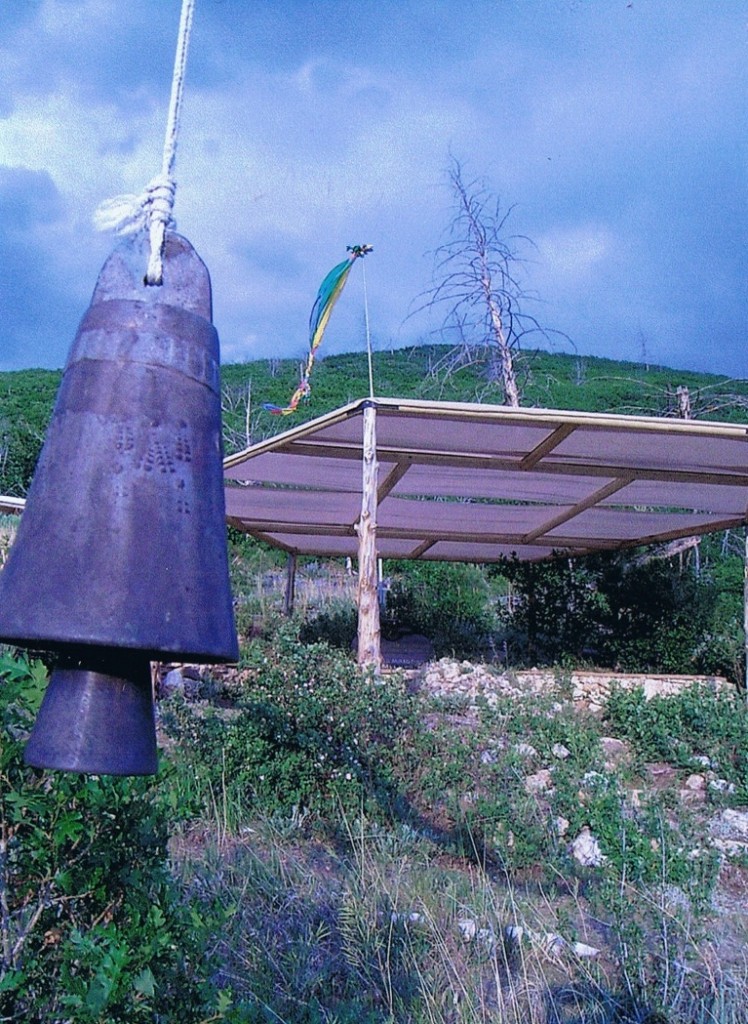 with additional thanks to Michael Endlich for the picture.
++++++++++++++++++++++++++++++++++++++++++++++++++++++++++++++++++++
So many people helped to make this a successful pilgrimage:
Many thanks
to Mansur Johnson who led our procession up to Murshid's grave site. He led us with the walk of Murshid doing Mian Mir, which Murshid had given him. It was very Saturn, and filled with power and dignity. No one was winded when we reached the top. Alhamdulliah!
and to Aslan, who led us in both choir and evening dances –
to Murad, who led us in Sufi Chi Gong, and an evening Zikr at the I.S.C. under the moon and stars –
to Siddiq and Sakina who served tea in the secret garden –
to Michael Endlich who presented Amulet making –
To Noel, who brought through Hanuman and regaled us with his story of the Ramayana –
to Mariam Baker, who brought her 1,001 extra large prayer beads from Turkey for a group zikr at the grave –
to Nasruddin, who was our 'rabbi' for Shabbos, was our retreat co-ordinator, and did a very funny stand up routine –
to Elaine Sutton who led a writing workshop, and made a fantastic Thai lunch –
to Azima who introduced us to 'the indigenous 13 Grandmothers and their web of light – –
to Sarafraz, who shared Frida's transmission with us, and brought her sweetheart to the Mountain,
to Ayesha for taking and sharing her wonderful pictures –
to Khadija Goforth for shipping a selection of Jewish pastries from New York to Lama (just in time for Shabbos),
to Jude Sargent for holding our ground, keeping us connected & manifesting her powerful love all these many years.
and to all our beloveds. Thank you all so much. I hope I didn't forget anyone.
A very special thanks to Murad, who picked up the registration and Lama co-ordination in mid stream, and did a dynamite job.
Next year on Mount Shasta – (probably June 19 – 24 or 25) more data and information to follow soon.
Sending all blessings and prayers that Allah grant you all the peace and health and happiness that Allah has in store for you.
Yours in service to the real,
hakim sauluddin
Charlottesville, Virginia — July 3, 2010
Happy Birthday America!