Dear family,
Murshid Sam made the most incredible statement to me about Mother Mary (of Mount Shasta): "I will take any of her students as my mureeds." (He wound up with 4 or 5, that I recall.)
I never heard him make such a statement about any other spiritual teacher and their students. He also attempted to meet with her, when Mansur (and myself) drove through Mt Shasta en route to Vancouver, to see Sam's uncle Harry. We missed her, but did get to hang out with Helen Fetterman (Mary's Lieutenant) and visit Crater Lake.
Helen later drove down to San Francisco when Murshid passed and helped console us, as she "witnessed" the funeral arrangements, and the court battle to fight his autopsy. (We didn't want his body cut, and Pir Vilayat showed up to assist us in this. He actually called Sam a Sufi Saint – under oath – in Marin County Court.)
Basira (then called Gypsy) first told SAM about Mother Mary, and he sent her and Shirin up to Mt. Shasta to meet her, and for Shirin to see a living High Priestess in action. Shirin later said she was a real one. It was this duo (Shirin and Basira) who brought me to meet Murshid, and I was hooked from the very beginning.
I share these stories, as I believe that a direct spiritual connection exists between these two lights. And, am deeply touched, that I was blessed to be able to "walk with her" and "take hands" with Murshid. Murshid once remarked to me: "You call her Mother," he said. "But I'm really your Mother. She's your Father." I got it, and it's true – the Father directs, and the Mother nurtures. Mary started me out, and Sam nurtured my path.
So, our gathering on Mt Shasta will bring forth these joint blessings: From Hazrat Inayat Khan (whom Mother claimed to have met in vision – she was also good friends with Murshida Bkati Engle, and of course knew all about Bakti's teacher), to The Great White Brotherhood, the Order of Melchizadeck, and the Space Brotherhoods.
We will be joined by Jeffrey Whittier (whose book on Mother Mary should be bound and ready for distribution), and Linden Carlton (Mother's driver on our trip to meet the Hopis in 1968) as well as a goodly number of senior teachers in the Ruhaniat. So far we have commitments from: Murshid Saadi Klotz, Murshida Mariam Baker, Shiekhs Jean Pierre David, Aslan Sattler, Murad Finkelstein, Siddiq von Brissen, Mansur Johnson, Sarfaraz Knight & Najat Roberts – and of course myself. Plus our own Michael Endlich, Fadhilla Bradly, and Nazruddin Greenberg; and Special Guests from the Mountain.
We're looking forwards to a great time, with gourmet food, many presentations, and visits to the Mountain, Shasta Abbey (Jiu Kennett Roshi) and Widow Healing Springs. All this plus Flying Saucers.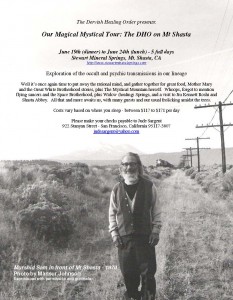 JUNE 19th (dinner) to JUNE 24th (lunch) – 5 Full Days.
Stewart Mineral Springs, Mt Shasta, California: www.stewartmineralsprings.com
Looks like costs will be between $117 per night to $171 per night – all inclusive.
For specific costs and reservations, contact: Jude Sargent
Please note: Staff receives neither reimbursement, nor honorarium, and pays full fees.
See you on the Mountain:
All Blessings
Hakim Sauluddin